Alkaline Phosphatase
(pdb id 1b8j)
Alkaline Phosphatase is a homodimeric enzyme found in nearly all organisms with the exception of a few plants. It functions by an active site serine-alkoxide attacking the phosphorous oxygen bond of the substrate, forming the temporary E-S complex (shown on next page). This allows for weak nucleophiles present in organisms like water (I) or alcohol (II) to hydrolyze the transient serine phosphate bond [11]. Hitting the first button shows a close up view of the active site with key side chains in wireframe. Hitting the second button shows the substrate analog, Vanadate, rendered in spacefill in the active site.
Scheme 1.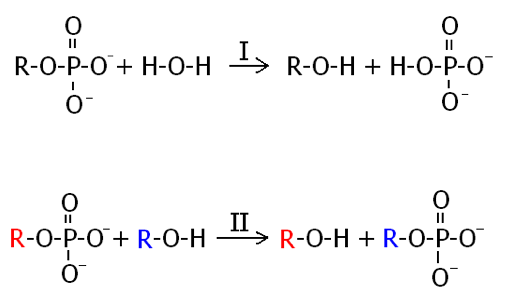 This reaction plays a very important role in metabolism for mammals, as well as many other classes of organisms. When a mutated form of Alkaline Phosphatase is present in mammals it results in hypophosphatasia, which adversely affects bone mineralization [6]. Often times the removal of a phosphate group, a very thermodynamically favorable process, is coupled to a unfavorable process, like the moving of ions against their concentration gradient. For this reason many other enzymes have phosphatase activity and are responsible for "burning" ATP and maintaining the potential difference across cells.
On to Page 2